---

Easy Bogey | How To Break 90
The Authoritative Guide
The author of Easy Bogey: How to Break 90 is Bob Madsen. He is a PGA Teaching professional in San Diego and has worked with all levels of players: novice to elite, pro and amateur. He stated, "The majority of my clients, as it turns out, cannot break 90." In response to this he has written this non-fiction golf book that takes about an hour to read and speaks to those golfers. It describes strategy and techniques average golfers are not currently aware of or are not using effectively enough.
The information in this book is not available anywhere else. The concepts are easily understood and can be immediately implemented on the golf course. Regarding the book's content, Coach Madsen said, "Average golfers have too many swing thoughts, try way too hard and manage/think their way around the golf course poorly. This booklet is designed to quickly put an end to this. It is a roadmap to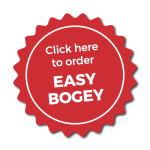 scoring in the 80s."
Course management techniques used by pros in fact translate to all levels of players. "This guide will benefit anyone who plays the game," Coach Madsen said, "I am sure of it." Commit to Easy Bogey, have your scores improve, and begin right away to enjoy golf more than you ever dreamed possible.
What people are saying about Easy Bogey…
"Don't let the number of pages fool you! This booklet is packed full of priceless, time tested ideas, many of which may be completely new to you. Are you interested in scoring lower? Do you have limited time to practice? Are you willing to play golf differently? If you answered those three questions in the affirmative, then you can break 90 and maybe even 80. As someone with average athletic ability and a few physical issues, I encourage you to buy a copy, perhaps several more for your golfing buddies, spend a quiet few hours reading and rereading, and then go play Easy Bogey!" — Simon Meth
---
"I just wanted to tell you how much I enjoyed your book…..I was able to break ninety twice since finishing, and in fact broke 85 (which has been a rarity concerning my game). Nothing other than a mindset for course management was the difference. One thing I noticed, if you think bogey, there is less pressure and you in fact score significantly more par's! I also have eliminated more blow up holes since I am not taking as many "risky" type shots…..I will continue to work on short game and maybe find the low 80's more often. Best Regards, TR"
---
"Prior to reading Easy Bogey Golf, I was always frustrated after a round. "I could have done better". After Easy Bogey strategy, I felt complete satisfaction. I accomplished my goal and then some. My score is usually around 90+. On Tuesday I shot 96+ on the Willow course. After applying Bob's strategy, I shot an 84 effortlessly, even with two doubles and two 3 putts.
Here is my round on 6/24/15:
13 out of 15 fairways, 9 out of 18 greens, and absolute calm during the round and had more fun. Felt like I could play 18 more. Usually I am wiped out after a round. This day it was a pleasure with no stress. I have already encouraged several people to buy Bob's book. It is a breath of fresh air to an old tired golfer. Thanks so much, Bret Bever"
---