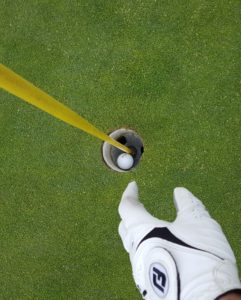 From a high handicap amateur. 
 Hi my name is Will.  I started golfing about 10 months ago and started working with Bob Madsen (PGA Pro) 7 months ago.  Bob has helped me lower my handicap to a 16 and my best round so far is 90 on a par 72 course.
I think every hole in one shot has a combination of luck and skill.  When a pro hits a lob wedge 5 yards past the pin that spins back into the cup, one could argue there is a greater portion of skill than luck in that shot.  When first time golfer tops a 160 yard drive off the tee that roles in, most would credit luck.  My hole-in-one falls somewhere between those two extremes.
Two days a week I play the Pine Glen par 3 course and usually shoot in the mid to high 60s.  The course has a nice mix of 150+ yard par 3's and challenging greens that keep patrons engaged.  This particular round I was golfing with my new Ping G irons for the first time.  Hole 6 is a narrow 180 yard flat par 3 with trees on either side of the fairway.  I play my 5 iron on this hole with the expectation that my average shot will yield a 20 yard layup, while a particularly well struck shot will roll onto the green.  Today my tee shot was dead straight, low and a bit thin (I never use tees in this course as I am trying to improve my fairway shots).  It took the first bounce 15 yards before the green and started rolling a couple yards before the small berm that guards the front edge of the green.  I lost site of the ball as it trickled over the berm, but re acquired it just as it started breaking towards pin.  It was kind of hard to see from far away, but as the ball slowed I lost it.  I calmly said "no f—ing way" and shook my head as I jogged to green with my pushcart.  I remember thinking, "this isn't supposed to happen to new golfers like me." Sure enough there was my prov1x with orange sharpie staring at me from the bottom of the cup.
I'm not sure if there is anything to learn here. I was making the safe easy tee shot Bob trained me to see.  The kind of smart beginner tee shot that does not challenge the surrounding trees by attempting dramatic and unnecessary shot shaping.  My focus was to hit the ball straight, low and just short of the green.  I succeeded at two of those three things.
In one sense you could say I am lucky because my shot that purposefully fell short of the green happened to roll in.  In another sense one could say smart shot selection from the tee box (skill not luck) yielded that shot.
So I guess I have a question. Is the hole-in-one that rolls onto the green more luck or skill, if rolling onto the green is exactly what the golfer was trying to do?